The CCIE Datacenter techtorial was a very good session giving a good overview about the contents of the exam. I will not focus on the technologies in this article, but only on the specifics that I wrote down during the session. This means you will only find details about the exam and not about the technologies.
There are enough resources to find details about the technologies, but you are reading this article if you want to know what to find when you step into the testing center or the lab.
The session was presented by 3 guys, I would specifically mention Walid Issa who is the product manager for this particular CCIE track. Walid is a very nice guy and if you want to know something about the lab, ask him!
Written
Over 200 took the written beta already. it's expected that a lot more people will take the DC written beta during Cisco live San Diego.
The Written is an overview of technologies with a medium to hard level. As all other written exams for CCIE the focus is on theory and not on configuration. When you know the technologies you should be able to pass.
Lab
Sample topology drawing :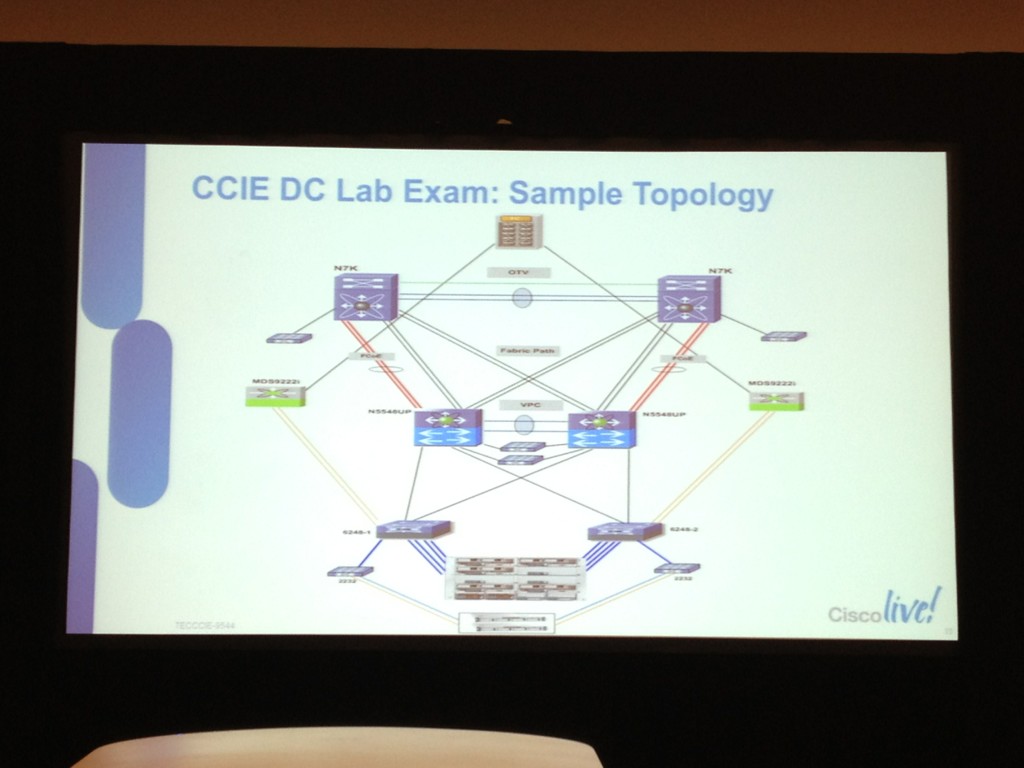 (pretty accurate according to the speaker;-) although some connections are missing!)
The 6 main topics tested are:
DC Networking (NX-OS)
Storage networking (MDS)
DC Virtualization (Nexus 1000V)
Computing (UCS)
Application Networking (ACE Loadbalancer)
DC architectures (only on the written)
You will NOT be tested on any other things than Cisco. So the Nexus 1000V will be pre-installed and ready within VMware.
Storage and ANS (ACE appliance) are not that big topics, just a few points, not that complex.
The focus is on NX-OS networking, UCS deployment and Nexus 1000V!
The exam consists of only 1 section of 8 hours. Do expect troubleshooting! Things will be broken when you come into the lab. The lab is designed to guide you through a 'standard' Datacenter installation. So you will be building up an entire Datacenter.
The setup is based on 2 sites! There is only hardware for 1 physical site, therefore various virtualization technologies are used to define 2 sites that you need to interconnect using things like OTV.
On the Nexus 7k's VDCs are used to create upto 6 switches (2 core switches and 2 sets of 2 distribution switches). The following picture shows you to a sample VDC topology: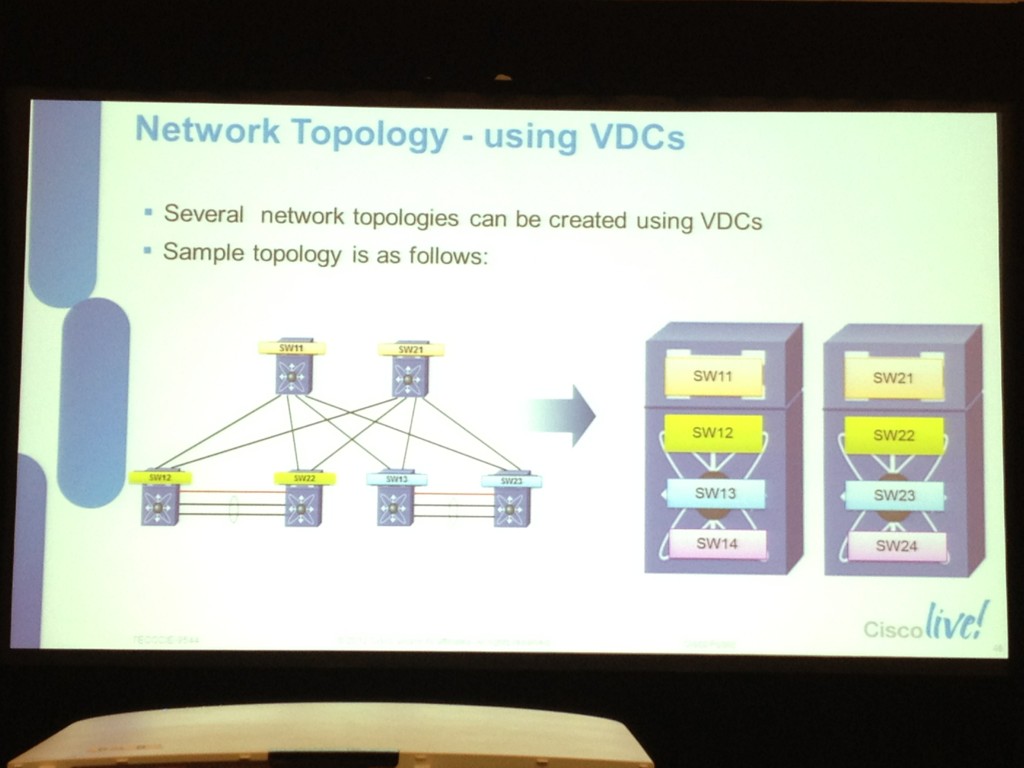 From the start there will be a physical lab in Brussels and San Jose. So you do not have a remote desktop with latency or other problems. Your equipment is locally available on the site.
You will be tested on FCIP and iSCSI on MDS as an IPS module is integrated.
Be prepared for FCoE (multi-hop) with a target connected on 7k requiring FCoE through n5k up to native FC to the UCS. Native FC is also available and used! FCIP is used as Datacenter interconnect between the 2 sites.
The Nexus 5548's come with L3 module
NO VMware, it's already installed and configured
Focus on VIC mezzanine, you will also see other mezzanine cards like the Emulex. So know the diffences
Main NX-OS topics
VDCs
FabricPath
Port-channel and vPC
OTV
Extend vlan can not be an svi on same VDC, so know how to create a separate VDC for OTV interconnections,
Only port profile and uplink configuration on nexus 1000V, everything is installed already. Static port pinning is a topic!
Nexus 5548 requires reboot of the module for enabling FC ports on unified ports
When module 1 is configured the whole switch needs a reboot
Some misc topics to remember
Fabric interconnect with VE port uplink coming this fall in Delmar release, this is not tested in the lab!
Know the difference between storage VDC and VDC with native FC!
You need Fabric Interconnect CLI to verify things and to troubleshoot
Ccie DC is very much about best practice, not so much about corner cases
FI might be in switch mode when you get into the lab
Configure pools and static WWxNs for specific zoning on jbod
Know how to configure uplinks on 1kv
Know how to do pinning to subgroups of a port-channel
Do not change any pre-configuration!!
As for preparation you can use the UCS emulator to test UCSM configurations, e aware that this is gen1 hardware being emulated, while the lab is using gen 2 hardware.
Cisco is looking into offering rack rentals and preparation materials, but no confirmation can be given about what is developed and when it's released.
By the end of fall 2012 a CCIE Datacenter preparation book will be released by Mike Frase (Support Engineer), which will bring you up to speed about all topics on the blueprint.
If you still have some question, reply on this article or post in the Facebook CCIE Datacenter group and I will mostly be able to answer your question.
Rick